Letter From the Founder
An Amazing History of Kids Enjoying Excel
Dear Parents and Campers,
I have been very blessed to have a great career as an athlete and as a coach. I attribute my success to the solid upbringing I received from my wonderful mother and father. Their efforts were enhanced by the many great coaches that I had, dating back to my youth days, up through high school, and then on to college.
I have been fortunate to have been a successful youth coach in New Providence, New Jersey and in Concord, California. I learned so much from the boys and girls on my first teams and treasure the relationships I have with them to this very day. Since the 80's I have been involved in Youth Basketball through my commitment to CYO Basketball. Even though I am no longer coaching in CYO, I enjoy my time serving on the Board of the East Diablo CYO Program where I get to work with so many committed volunteer Athletic Directors who truly love kids.
Coach Allocco: 1983 Camp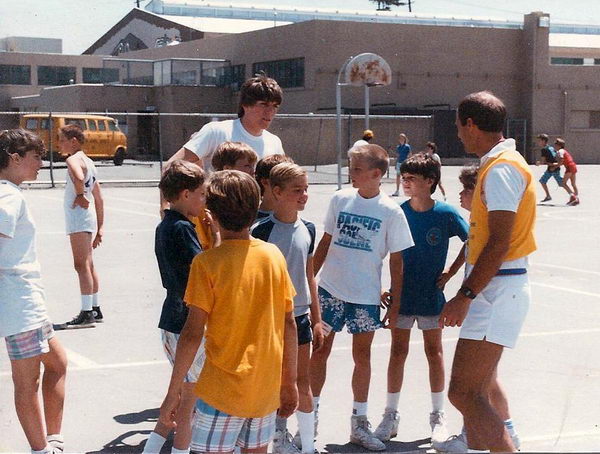 Todd Lichti, Future NBA Player: Excel-Mt. Diablo
I am grateful to the Administration of Northgate High School and De La Salle High School who gave me the opportunity to coach and mentor their high school students and serve their communities. Many of the youngsters that I coached in high school now make the time each year to come back and work at Excel!
But most of all, I thank the thousands of families who have entrusted their children to my care. Excel is my ministry, it is my passion. Serving children and trying to provide them with great tools to become better players and better people is my life's commitment.
As I look through the hundreds of photos on this site, I am truly grateful for all of the campers and coaches who have enriched my life through our work together. I am extremly proud that so many kids look back to their days at Excel as some of their most treasured summer memories.
I hope you will take a moment to explore the many pages on this fun site. It is filled with the history of our camp, with every award winner, plus amazing photos of the thousands of campers who spent their summers at Excel.
Since its inceptoin in 1981, I have remain invovled at every camp. Why? …..because it is what I absolutely LOVE to do.
I remain commited to providing the best experience possible for your child, and to using Exel camp as a way to "Change the World One Player at a Time".
Yours in Basketball,
Frank Allocco
Camp Director since 1981
Previous California Staff
Mike Aboussie: Ex Boys Coach, Alhambra HS
Gabe Adami: Ex Girls Coach-Northgate HS
Jeff Addiego: Com. Relations, Golden State Warriors
Mike Allocco: All State Player, Northgate H.S.
Jayne Appel: Stanford, WNBA
Nate Appel: Chico State University
Gus Argenal: Head Coach, Cal State East Bay
Justin Argenal: College Coach, The Citadel
Jim Barnett: Ex NBA Player, Golden State Warriors
Tim Bataska: Ex Boys Coach, Northgate HS
Erika Bjork: Public Relations, Sacramento Kings
Tom Blackwood: Ex Boys Coach, Miramonte HS
Ray Buck: HS Coach, Castro Valley HS
Mark Bucklew: Ex Girls Coach, Northgate HS
Kevin Butler: Ex College Player, UC Riverside
Art Cattano: Boys Coach, New Providence HS
Steffi Cornell: College Player, Sonoma State
Jeff Crain: Ex Girls Coach, Las Lomas HS
Rick Croy: Head Coach, Cal Baptist Univ.
Brian Dietschy: Youth Basketball Coach
Ivan Dodic: Ex Boys Coach, Bishop O'Dowd HS
Bob Dziengeleski: Ex College Player, St. Bonaventure
Brian Elchinoff: Ex Boys Coach, De La Salle
Pat Ertola: Athletic Director, Alhambra HS
Jimmy Estrada: ASA Basketball Coach
Conor Famulener: Ex College Player, CAL
Reyna Fortenberry: Ex College Coach, UC Riverside
Margaret Gartner: Girls Coach, Carondelet HS
Michael Gleisner: Ex Boys Coach, Berean Christian
Leigh Gregory: College Coach, Univ. of Minnesota
Frank Knight: Boys Coach, Moreau Catholic HS
Simon Knight: Ex College Player, Colgate Univ.
Tim Kruger: Athletic Director, Las Lomas HS
A.J. Kuhle: College Coach, Denver University
Bryan Lee: Ex College Player, Grand Canyon Univ.
Chad with Jr. Campers Todd Lichti: Stanford, NBA Player
Paul LeClaire: East Bay Bulldogs AAU
Leo Lopoz: Athletic Director, De La Salle HS
Jeff Loving: Ex Boys Coach, Las Lomas HS
Tim Lunsford: Ex Boys Coach, De La Salle HS
Nicole McCallister: Ex College Player, Oregon State
John McCarthur: College Player, Santa Clara
Chad Mortensen: Boys Coach, De La Salle
Michelle Mortensen: Ex College Player, Sonoma State
Joe Nagy: Ex College Coach, UC Santa Barbara
Ron Pangilinan: Girls Coach, Bentley School
Travis Pacos: College Player, Northwest Christian
Zach Payne: College Coach, Whitworth University
Dan Peera: College Player, Rice University
Corazon Riley: Ex College Player, Notre Dame College
Monika Roberts: Ex Professional Basketball Player
Kyle Roemer instructing Theo Robertson: NBA Coach, Los Angeles Lakers
Kyle Roemer: Ex College Player, Colgate University
Mikael Roemer: Boys Coach, De La Salle HS
Paul Roemer: Ex College Player, UC Santa Barbara
Justin Joyner: Ex College Player, UC Santa Barbara
Duke DaRe: College Player, UC Santa Barbara
Mike Samuels: CEO Ultimate Fieldhouse
Ryan Schlaich: College Coach, UC Irvine
Chris Schlatter: Ex College Player, Washington State
Marcus Schroeder: College Coach, St. Mary's College
Ryan Silva: Ex College Player, UC Davis
Garry St. Jean: Ex Pro Coach, NBA Warriors and Kings
Greg St. Jean: Professsional Coach, Sacramento Kings
Nick Sullivan: College Coach, Northwest Christian
Dan Swan: Head Girls Coach, Heritage HS
Joe Teramoto: College Coach, UC Davis
Brandon Thomas: College Coach, Citrus College
Govinda Thomas-Carter: EX College Player, West Texas A&M
Joelle Crawford: Ex College Player, Colorado, Col. Springs
Ryan Thompson: Boys Coach, Valley Baptist HS
Melanie Turner: Ex College Player, Univ. of San Francisco
Langhston Walker-Oregon State University
Chris Whirlow: MVP Flight AAU
Jason Williams: Ex Professional, Australia
Brendan Winters: European Professional Basketball
Ray Horwath: Ex European Professional
Brian Winters: Ex Pro Coach, Golden State Warriors
Previous New Jersery Staff
Frank Allocco, Jr.: Director of ASA Basketball
Gregg Allocco, Director, Excel AAU, Ohio
Kelly Bartz: Girls Coach, Dunellen HS
Dave Boff: Boys Coach, Roselle Catholic HS
Paul Casarico: Asst. Supt, New Providence S.D.
Jack Cole: College Player, Stonehill College
Kaitlyn Cresencia: College Player, Connecticut College
Roy David: Ex Boys Coach-Morris Catholic
Kameron deVoogd: College Player, St. Peter's College
Sebastian deVoogd: Boys Coach, New Providence HS
Dan Doherty: Boys Coach-Scotch Plains HS
Walt Hennessey: Girls Coach-Union HS
John Hutchinson: Ex Boys Coach-Hillside HS
Basil Kennedy: AAU Basketball Coach
Rich Lally: Ex Boys Coach-New Providence HS
Lynn Lopez: Ex College Player-FDU
Mike Mancino: Boys Coach, Caldwell HS
Rick Mangili: Ex Boys Coach, New Providence HS
Steve McCauley: Ex Boys Coach, Roselle Park HS
David Mead: Ex Boys Coach, Livingston HS
Scott Murphy: Girls Coach, New Providence HS
Steve Petruzelli, Boys Coach, Governor Livingston
Rob Ritter: Girls Coach, Governor Livingston
Bob Romeo: Ex Boys Coach, New Providence HS
Mike Roof: Boys Coach, Roselle Catholic HS
Kevin Schmid: Boys Coach, Mendham HS
Andy Silvagni: Girls Coach, Governor Livingston
Tim Simo, Ex Boys Coach, New Providence HS
Stephanie Parin: Youth Basketball Coach
Earl Tankard: Boys Coach, Westfield HS
Donna Trivisonno: Ex Girls Coach, New Providence HS
Jim Vopal: Ex Boys Coach, New Providence HS
Charlie Weis: Ex Football Coach, Kansas, Notre Dame
Colin White: Ex Boys Coach, New Providence HS